[RPG MAKER] She Who Fights Monsters: Choice Edition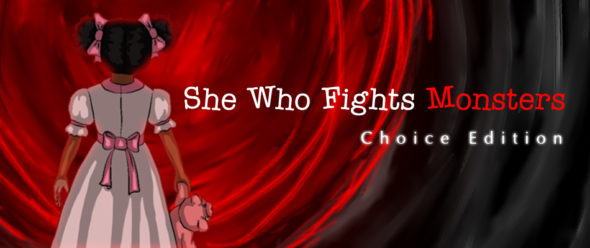 Content Advisories: Alcoholism, child abuse, violence

---
Note: This game is donationware. If you enjoy it, please tell your friends and feel free to send something my way. 🙂
Note 2: If you're curious, THE ORIGINAL VERSION IS STILL AVAILABLE. You can get it here.
---
Once upon a time, there was a sweet little girl with a big imagination. Her name was Jennifer (Jenny for short), and her world was full of adventure. A closet became a sanctuary. A basement became a secret passage to the Land of Elves. And her home became a nightmare world with no warning, rhyme or reason beyond the unpredictable winds of her father's drunken rage.
Help little Jenny survive seven days with her alcoholic father. From there, via New Game Plus, walk the path of Love, Indifference or Hate to decide who she becomes.
This game is a big improvement over the original version. Highlights and changes include:
Six new endings; brand new ending art
New Game Plus
A story to suit your mood: optimistic, pessimistic or destructively nihilistic depending on which path you choose
The introduction of Free Day Mode, which gives little Jennifer run of the house without parental terror (New Game Plus only)
New secret boss
Enjoy!
---
Video
---
Screenshots
---
Game Added 11/08/16